Thank you Iserlohn for sending us this mini basketball hoop to review!
We haven't played much basketball at our house since my mom backed into our outdoor movable hoop with my brother's car. Sure, it's nice to play with a real basketball outside, but there's something to be said about the ability to play all year round in the comfort of your own room while wearing whatever you please.
Iserlohn's mini basketball hoop comes with everything needed to get your game on. With the inclusion of 2 plush cotton basketballs, the games can be conducted in a quiet manner. The mini basketball requires inflation and the bundled-in air pump will do the job if your arms can handle the several hundred pumps required to fill it up. At first, we couldn't find the inflation needle, but after my son dropped and broke the pump, it was located. Fortunately, we had a spare pump that was able to finish the job.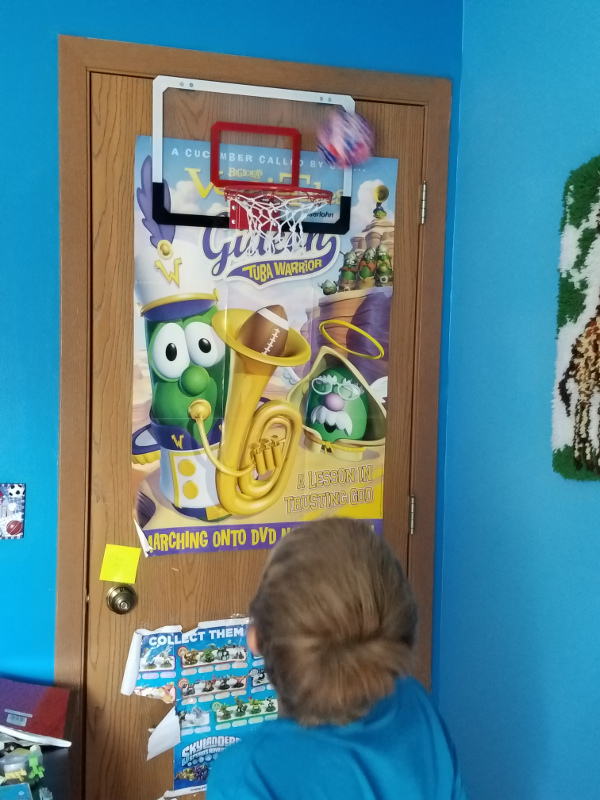 The rest of the kit is quite sturdy and easy to set up. Installing the basketball net was a breeze. I like how the backboard and door clamps are padded to prevent scuffs and scratches. With the net installed, my son's bedroom door still closes as it should. The only thing to be careful of is slamming the door open and possibly denting the opposing wall with the rim.
My kids enjoy this new toy and have completed several games of "PIG" with little arguing. Anything that gets my kids to play together quietly is a win in my book. Since we have wood flooring, the mini basketball is a bit loud when it's in use. The plush balls are quite the opposite so if you want a low volume toy, don't even bother inflating the mini baskteball. Iserlohn's mini basketball hoop makes a perfect gift with its reasonable asking price of less than $25 on Amazon.

(Amazon Affiliate Link)