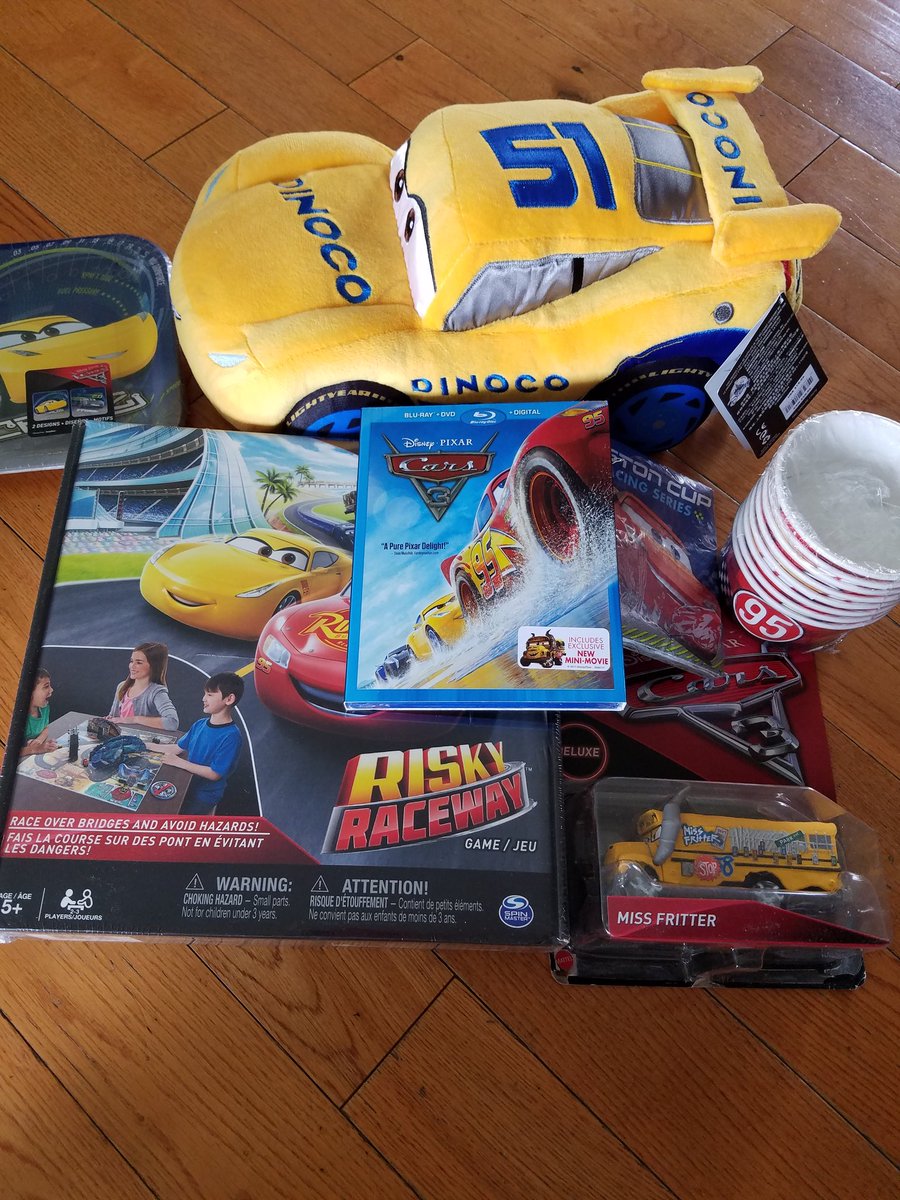 Thank you Disney for sending us a Blu-ray, board game, Cruz Ramierez plush, Miss Fritter toy, snack cups, plates, and napkins!
My family has enjoyed and owns Cars 1 and 2 on Blu-ray. Though we enjoyed the first movie more than the sequel, we had high hopes for the third entry (if you don't count the Planes movie). Cars 3 is a solid film despite its predictable ending.
In the beginning, you see Lightning McQueen at the top of his game with several adoring fans in the audience sporting his number 95. The banter and pranks between the top three performers is quite entertaining and fun to watch. The racing season starts off good for Lightning McQueen, until a younger, high-tech model racer named Jackson Storm starts winning the races. It doesn't take long for many of Lightning McQueen's friends to see the writing on the wall and start retiring one by one. Lightning McQueen doesn't want to throw in the towel so easily, but a bad car accident gives him plenty of time to reflect on his situation and think back to the good advice that Doc Hudson gave him during his training.
Despite being at a disadvantage against the modern cars and their hi-tech simulation training machines, Lightning McQueen decides to continue on with his career. He soon befriends a personal trainer who constantly makes cracks about him being old, needing naps, and leaking oil. As someone who is pushing forty I can relate to feeling insecure to the threats of younger and more efficient models out there.
The overall story is good and the heartwarming ending isn't a total surprise. My family enjoyed watching this film and highly recommend it to any Cars fan out there. People of all ages can enjoy this film and its lessons of pushing yourself to try harder and thinking smarter than your opposition. Sometimes things are not as hopeless as they seem. Currently you can enjoy this movie digitally and on November 7th it will be available on Blu-ray and DVD.


(Amazon Affiliate Link)