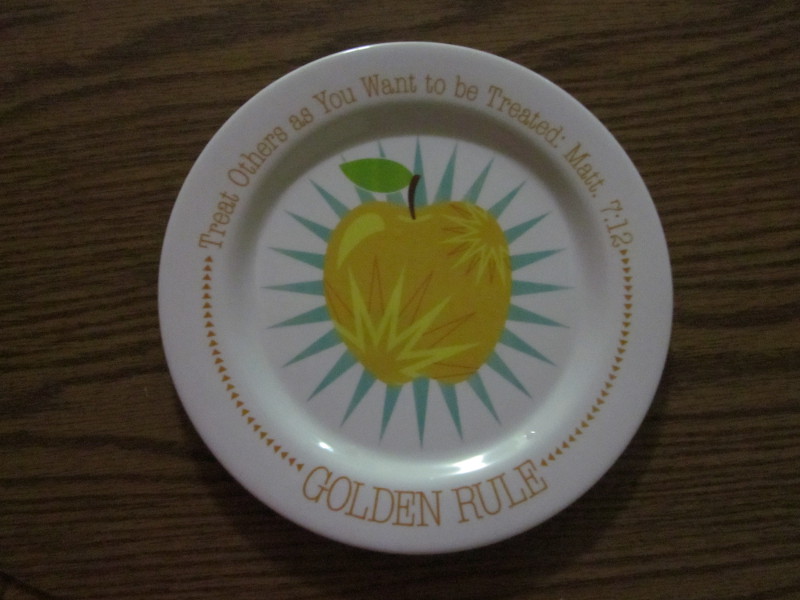 Thank you Fruit-Full Kids for sending us a Golden Rule plate to review!
Fruit-Full Kids began unexpectedly when a mother offered a kindness award for her kids to get along after a day of bickering. She didn't expect her offer to make a difference, but God had other plans! When her children behaved the rest of the day, Laurie Canata, gave one of her kids a different plate than the others. Following that day her kids were excited to see who would get the special plate. And thus the idea for unique Christian/Bible verse themed plates was born!
At the time of this article there are sixteen different plates to choose from and they sell for $6.95 individually or $19.95 for a set of three. There are plates for several fruits of the spirit including love, joy, peace, kindness, patience, goodness, gentleness, faithfulness, and self-control. Biblical principles like the Golden Rule (Matt 7:12), being a Fruitful Follower (Mark 12:30), and a Gracious Giver (2 Cor 9:7) are also available in plate-form. Last but not least are holiday themes plates with Christmas (Luke 2:11 & Luke 2:14), Thanksgiving (Ps 136:1), and birthday (Ps 139:13-14) plates available.
The dishes themselves are high quality with colorful and attractive artwork on them. They are made from non-toxic BPA free melamine. The plates measure nine inches in diameter and are dishwasher safe. My biggest complaint is that they are not recommended for microwave use. Given that my kids often need to re-heat leftovers, they don't get as much use out of these dishes as I would like. However, in the past couple of weeks that we have been using the plate, it has held up fine and the design is not scratching or fading away.
If you're looking for a fun way to bless and teach your kids God's word, then check out the wide variety of plates sold at the Fruit-Full Kids website and several retail locations. Shipping charges apply on the website and Amazon.com. These plates make great gifts and bless people in many ways as ten percent of the proceeds goes toward the fruit tree program through Samaritan's Purse.