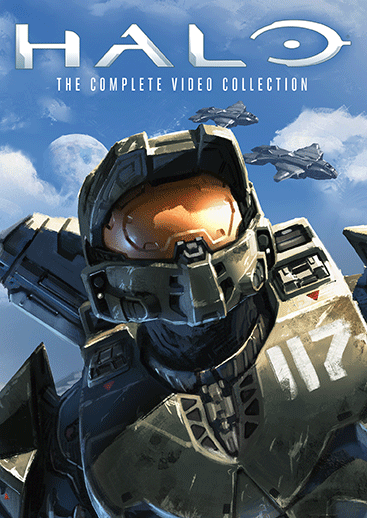 Thank you Shout! Factory for sending us this six-disc Blu-ray set to review!
Back in 2015 we enjoyed and reviewed Halo: The Fall of Reach. Since we only had access to a low-resolution screener it's nice to have a higher quality Blu-ray disc of it now. I have enjoyed the first two Halo games and my kids have been playing the original game, so we have a little bit of an understanding of the franchise. Thankfully, each of the discs features different characters and stories and don't require an in-depth knowledge of the game to enjoy them. With that said these films are dark, bloody, and have some language in them so they're not for younger children.
Aside from Fall of Reach, there are two other movies, Forward Unto Dawn and Nightfall. The first disc, Halo Legends, has all seven of the short animated films. If that's not enough Halo lore for you to enjoy, there are also two discs worth of bonus content. This set is sure to please any Halo fan.
Each of the Halo Legends episodes is different in art style and storytelling. The history of the war with the Covenant and the Flood is retold from varying perspectives, including Cortana's. Other side stories are told as well including some somber ones and light-hearted tales. Since the episodes are pretty short, I won't spoil any of the details here. This disc is nearly two hours in length.
Forward Unto Dawn tells a ninety-one minute story of some fresh recruits that hope to be Spartans one day. Each of the cadets have their own viewpoints on the war and reasons for enlisting. Many of them have family members that will be hard to measure up to. Taking orders does not come naturally for the main character, Thomas Lasky. All of their sweat and training will come in handy when their academy gets attacked by the Covenant. Do they have what it takes to survive?
Nightfall stars Mike Colter who I recognized from the Luke Cage series. His character, Locke, is an ONI soldier on a mission to save the planet from a biochemical warfare attack from the Covenant. The fate of the planet relies on a handful of soldiers who must endure the harsh atmosphere of what's left of the Halo ring. Humanity's acts of selfishness and selflessness are both shown in this ninety-eight-minute film.
While my family and I enjoyed these films and short movies, they are not for younger kids due to language and intense violence. There is plenty of blood and alien worms eating people alive. Pretty good nightmare material for young ones. Those who are old enough to enjoy the games will find a lot to like in this set though.

(Amazon Affiliate Link)